BOOK LUNCHES AND LAUNCHES




by Cecilie Størkson
October 22, 2017





I want to start off this cloudy yet beautiful Sunday, the last day of the fair, by telling you about a couple of brand new publications.


Jessica Willams' book lunch



A new concept for Bergen Art Book Fair this year has been their book lunches. At first glance, a book lunch might seem like a book launch with a typo. And honestly it is a book launch, just held in a very casual, friendly setting, where the book is being (verbally) served along with a snack that goes with the book's theme. Yesterday around lunchtime, a handful of friends and strangers gathered around a long table upstairs in Bergen Kunsthall. There, Jessica Williams showed us her new artist's book Å finne stemmen (Finding ones voice). In addition to the book, she brought home made rhubarb wine, and she had asked the kitchen team at Landmark to make us something bittersweet.



Å finne stemmen is a complex book, both thematically and technically. Jessica herself has riso-printed, cut, sewn and glued the whole edition by hand, as a part of her riso-recidency at Pamflett in Bergen. In short, it's subject matter is the process of being integrated in a new country through learning the language. In the book Jessica shares reflections and stories from her own journey towards becoming a Norwegian citizen. In the mid part of the book, she asked friends of different nationalities to contribute. The result is a captivating book in a mix of English and Norwegian, that is sometimes sad, sometimes funny and overall thought provoking. When it comes to layout and materials, it is full of clever solutions and beautiful details. Get a feel of it yourself at Jessica's stand (it's even sold at a special price during the fair).



In addition to the book lunch yesterday, several ordinary launches were held (even though they continued in a rather intimate format). First, illustrator and writer Åshild Kanstad Johnsen and architect Ben Wu (on behalf of Northing) talked about the publication Habitat, which was made in August, during the project China meets Norway in a bookshelf. I've written extensively about the project and it's participants before, here. Habitat was made in Shanghai, during a workshop together with Bananafish. There, Norwegian and Chinese artists and designers worked together making images that reflected their notion of the term 'habitat'. The images were then riso-printed (so much riso this year!) and bound together as an all-image publication.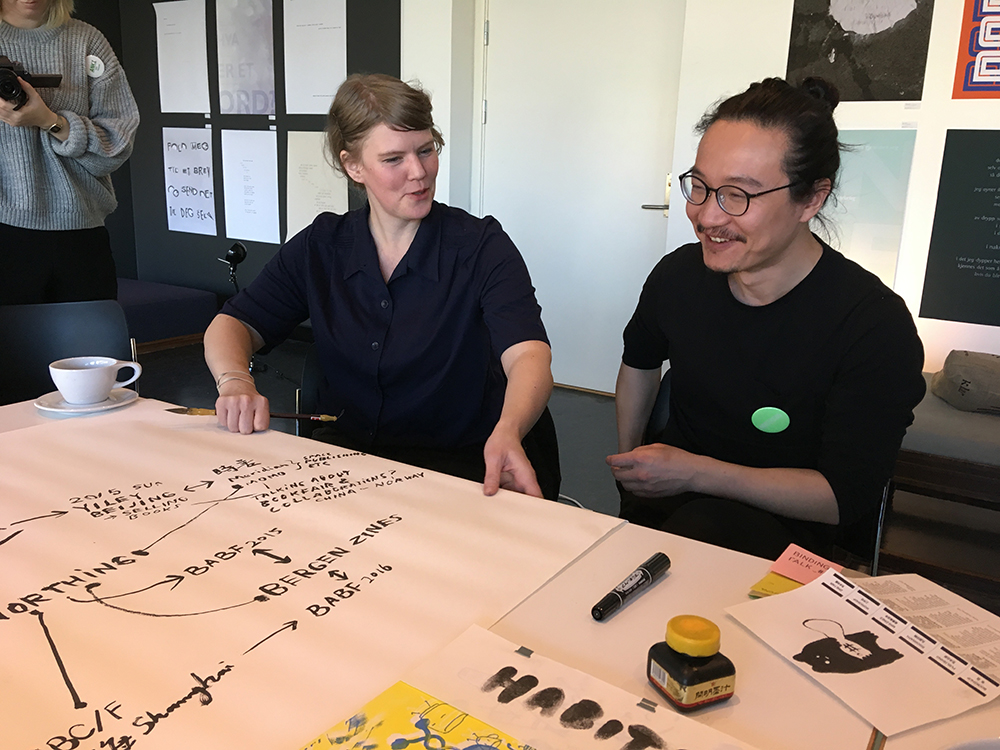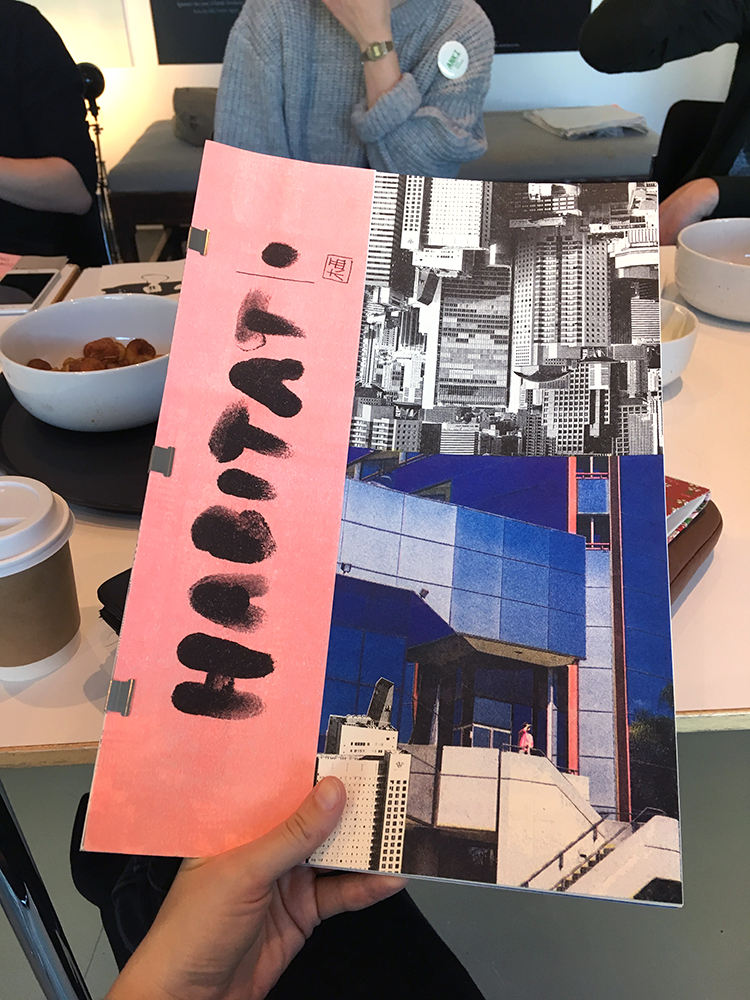 Habitat launch led by Åshild and Ben

Then BLOKK forlag, a small Oslo-based publishing house (not to be confused with the Bergen-based studio collective BLOKK), presented their new fanzine by Åge Peterson. BLOKK was established just one year ago, and is run by Anja Dahle Øverbye and Ingrid Flognfeldt Brubaker. BLOKK's mission is mainly to publish comics, fanzines and artist's books (comics being their main genre so far, both in fanzine and book form). Åge's fanzine is called Kjært, fælt og sirkulært. He had a very specific formal starting point for this project: in every square of the grid framing his drawings, he placed a circle. This circle had to be incorporated in each drawing. That way, not only the drawing, but the whole narrative of his story was limited and shaped by circles. For the first time, Åge experimented with incorporating personal experiences in his comic. Kjært, fælt og sirkulært is a wonderful, small riso-printed zine with a soft cover and rounded edges.


Åge and his fresh zine

After the presentation by BLOKK and Åge, the Norwegian art magazine BILLEDKUNST launched their most recent edition, which is about Bergen. On this occasion they arranged a panel discussion, where they elaborated on topics brought up in the magazine. The panel consisted of curator Anne Szefer Karlsen, Petter Snare, the new director of KODE, and ph.d.-literary scholar/freelance writer Kristoffer Jul-Larsen. The discussion was skillfully moderated by Tine Semb from Billedkunst. It was short but interesting; the panel trying to define the present state of the Bergen art scene - which Kristoffer suspects might be in the middle of a transition. Amongst other things, Anne and Petter discussed the responsibilities of the various art institutions in Bergen, when it comes to representing and accommodating the local art scene. If this sounds intriguing, I recommend you get your copy of Billedkunst, they sell it at BABF.



I sadly missed Saturday's last launch, where Myclef Laun of Portmanteau Books presented a film trailer for FLUNG RAZOR II. But I suggest you go visit his stand at BABF, conversing with him is always interesting :)

Even today there's a book lunch and several launches. First off is Ying Chieh Liu from Taiwan, who will present several new books + a snack at 12 o'clock. Then from 1pm and onwards there will be launches by Kay Arne Kirkebø (NO), Performance Art Bergen (NO), Gunvor Rasmusson (NO) and Xiong Liang (China).

Enjoy!